Rutgers–New Brunswick Campus & Virtual Tours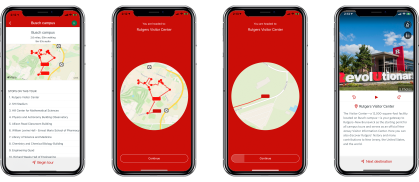 Explore campus in person with self-guided walking tours via the Rutgers–New Brunswick mobile app. Visit our five campuses at your own pace with a personal tour guide in the palm of your hand.
Get Started
1. Download the Rutgers-New Brunswick App
2. Tap on the Rutgers–New Brunswick Tours guide
3. Open the Sidebar in the Upper Left Corner
4. Read the information for Visiting Campus, How to Use This Guide, and Parking Information*
5. From the Sidebar select Tour Options and then Campus Tours
6. Choose Your Campus
* All tours begin at designated parking lots.
Important Reminders For Your Campus Visit
Face coverings are required in all campus buildings.
Practice social distancing at all times.
All academic buildings are closed to the public for the safety of current students.
Restroom facilities are available in all student centers.
Missed Our Virtual Showcases?
Now you can view all the sessions recordings here. Join admissions staff, school representatives, and current students to learn how Rutgers will shape your college experience.
10 a.m. Admissions Info Session
Rutgers overview hosted by a Scarlet Ambassador who is a current Rutgers student. Admissions staff will go over how to apply and what Rutgers looks for in an applicant.
Hear from Scarlet Ambassadors, who are current Rutgers students, on what it is like to be a Scarlet Knight!
Learn about the school (or schools) you are interested in! You will be able to move between school overviews.
School of Arts & Sciences
Ernest Mario School of Pharmacy
School of Nursing
Learn about the school (or schools) you are interested in! You will be able to move between school overviews.
Mason Gross School of the Arts
Rutgers Business School–New Brunswick
School of Engineering
School of Environmental and Biological Sciences
2 p.m. Application Workshop Session
Hosted by Undergraduate Admissions staff. Tips for completing your application.
Douglass Residential College Overview
Douglass Residential College is the only residential women's college in the nation that is housed within a world class public research university. Douglass students enjoy a small college atmosphere and programs that support their success and leadership. At the same time, they engage with all the rich educational and research resources of Rutgers–New Brunswick.
Honors College Overview
The Honors College is a living-learning community focused on tackling global challenges and transforming ideas into action. Each year, the top 500 first-year students from across Rutgers–New Brunswick are invited to begin their college journey as part of the Honors College. Founded in 2015, the Honors College offers an education for the twenty-first century while reflecting on the university's rich 250+ year history. This is more than a place of study. It's more than a college experience. The Honors College is a home for students who want to learn and help make the world a better place.
Living Learning Communities Overview
Rutgers–New Brunswick Learning communities are a self- selected group of students who share similar academic interests and explore them together in common courses and out of classroom activities at no extra cost to the student. Students in learning communities report making friends quickly and expanding their faculty, and staff network. Learning community residents are afforded unique opportunities for academic and social success.
Career Exploration & Success
Career Exploration and Success (CES) is committed to assisting students with making connections between their academic experience and career paths. We provide career-related advising, resources, and programs to help individuals discover their interests, values, and skills; explore careers and majors; develop skills through internships and experiential opportunities; and pursue their post-graduate goals.
Join us on a virtual tour hosted by current student ambassadors that will give you an inside look at all five campuses of Rutgers–New Brunswick!
Virtual Transfer Student Information Session
View a recorded transfer student information session.