Chelsea S.
Criminal Justice
"I am passionate about ending police brutality and with my HLLC scholars program, I feel I am making a difference at Rutgers University–Newark and in the local community."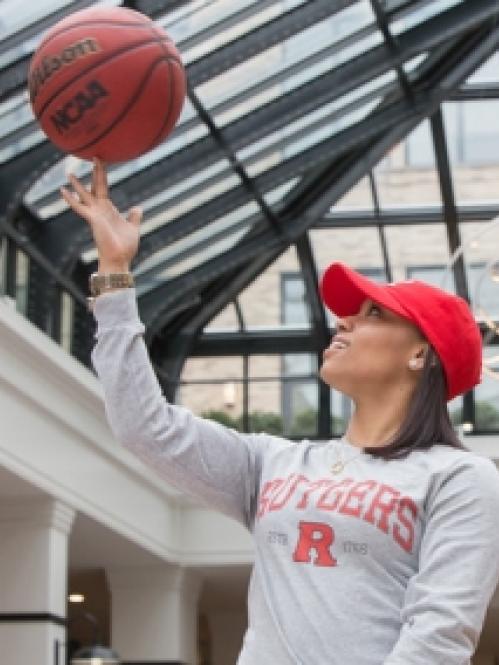 Chelsea's Story: Why Rutgers–Newark?
Rutgers University–Newark has provided me with access to a unique education system that continuously allows me to obtain pertinent information about the expectations that are accompanied with my future as a Criminal Justice Major. I have also been fortunate enough to meet individuals such as professors, mentors, and even attorneys all within Rutgers University that have given me helpful insight about the career path I wish to continue onto once I graduate from Rutgers University– Newark.
The reason I chose Rutgers–Newark was because of the opportunities that I knew would be provided to me through The School of Criminal Justice. This school was a major eye-opener when it came to choosing this college as my home for the next four years. All of the resources I could possibly need in order to obtain a degree in Criminal Justice are right at my fingertips and that made my decision of finding a school that much easier. Becoming an HLLC Scholar was a life-changing experience – my learning family and friends grew through this experience. The HLLC scholarship that I was awarded once I was accepted into Rutgers University allowed me to start college comfortably and confidently as a freshman last year.
Access to Faculty
I did not want to be just a number when I walked in the class room and I wanted to make sure I was able to talk to my professors if I was having any difficulty within the class. Rutgers University– Newark has provided me with just that and so much more. The accessibility of my professors through not only through email but also through office hours is something that allows me to learn better and feel more confident when turning in work for class.
The Honors Living-Learning Community (HLLC)
The HLLC has impacted my success by showing me what I am capable of accomplishing if I work hard and put my mind to it. Being able to proudly say that I am part of a cohort that wants to help better the community has helped better my experience at Rutgers. My social justice goals of wanting to renew and restore a community that was going through hard times was made possible by the HLLC. Giving back to the community of Newark has made me feel like I am having a major impact on the lives of the people that live here and knowing they are appreciative makes it that much more satisfying. Being able to have a mentor and advisors who allow you to walk into their office without an appointment and have all of your questions answered is something I did not think was possible to have in college. HLLC makes it known that they have faith in you and your work ethic and they want you to remember that you are not alone. I have the same support that I would have at home here at Rutgers University– Newark and I have the entire HLLC community to thank for that.
HLLC Faculty
The faculty and mentors within the HLLC are always there to lend a helping hand o matter what the situation is. Whether it involves school or social life the mentor you are assigned is always there with open ears. The advisors in the HLLC have made the college experience of picking classes and trying to figure out how many credits should be taken each semester a breeze. They make it known that you should not stress over choosing courses and credits and that they are always there with any questions you may have.
The curriculum that the HLLC is based out of is something that fascinates me. I think it was a brilliant idea to incorporate a class solely based off of the lessons and experiences that the HLLC wants us to obtain once we graduate. I feel that the core benefit of the HLLC on students is the idea of starting a new experience with others. A lot of students come into college with the fear of being alone or being unsure if they will make new friends. But the HLLC takes those fears and concerns and throws them right out the window. The HLLC makes it their mission to have students come into the classroom along with social events with confidence in knowing that they will do great. The HLLC has been my number one support system outside of my family and I would not have obtained the many accomplishments I already have if it was not for the members of this cohort.
Affordable Education
Financially I was able to attend school here due to what is now known as the HLLC residential scholarship. This opportunity has allowed me to live on campus and have a secure meal plan for free for the next four years without any debt. As long as I am on top of my grades and continue to excel in my classes, this scholarship will continue to be a great help for my time here at Rutgers.
Along with the HLLC program that I mentioned before, I am also a part of the women's basketball team, the SAAC (student athlete advisory committee) administration, and I was also recognized as Miss Rutgers for the class of 2019 my freshman year. All of these involvements here on campus have helped me with my leadership skills, allowed me to meet new people, and has opened doors for me to make connections with individuals that can help me with the start of my career in the future.
Residence Life
Living on campus has been positive. Housing has afforded me the responsibility of taking care of a living space I can call my own. Being able to decorate my room and feeling comfortable where I live has made attending Rutgers unforgettable. The food here on campus definitely does not compare to a home-cooked meal but I can always say I will never go hungry. All of the events on campus that I have attended were fun and always positively target the college student audience very well.
Community Commitments
One main project that I have been involved in was becoming a member and a mentor for the Newark Chess Club. Daniel Scipio, the leader of the Newark Chess Club, taught me and my fellow classmates life lessons that can be accompanied with the game of chess. This experience empowered my learning by showing me that you must always consider your next move when it comes to making major decisions in life and to always think before you move.