Jenny E.
Computer Science & Criminal Justice
"This university really fit my lifestyle. I transferred to RU-N after completing my associates degree and received a PTK scholarship...plus, I commute to campus each day on the Rutgers Shuttle Bus-it works for me, my budget, and my future."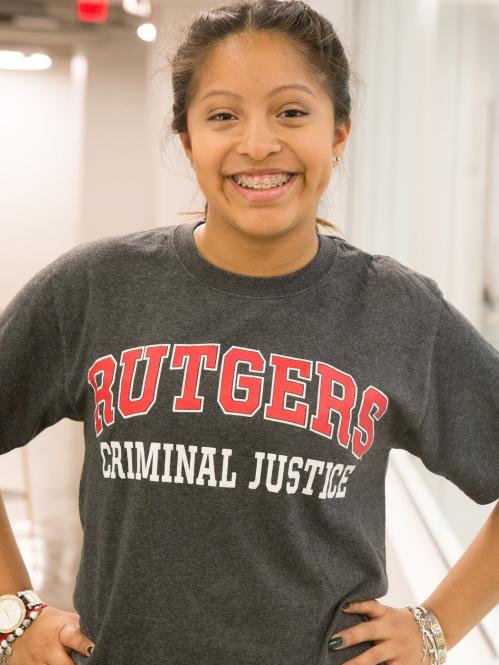 Jenny's Story: Why Rutgers–Newark?
I Really fell in love with the overall Criminal Justice program and student life experience. They have a great Criminal Justice program and the school offers many opportunities such as summer internships, study abroad programs, a top 5 Ph.D. program, and very strong job opportunities.
Transfer, Transformed
I graduated from Hudson County Community College and transferred to Rutgers-Newark. The transition was quite easy and all my credits were transferred due to the dual partnership between HCCC and Rutgers University-Newark. I received support and great guidance on academics and the transfer transition from my admission counselor and advisor. They helped with class registration and advised me on first-year experiences at Rutgers. I am very grateful for that personal approach. I also received the PTK scholarship, which also held with it the honor of being inducted in the PTK Honor Society.
Best Experience So Far
I enjoy my classes and the close relationship with my professors. I like the student atmosphere and student-centric events that go on during free period. The atmosphere is very positive.
Accessible Faculty
The faculty encourages me to work harder and has transformed me into a better student. I also like interacting with the TA's because I like hearing their experiences as adults working within the major I'm pursuing and hearing their experiences as a college student.
Career Plans, Goals, and Dreams
My dream of being a Rutgers student turned into reality. My career plan is to work with the F.B.I. The School of Criminal Justice conducts informative career development programs to guide our interests and professional networks.
More Affordable Access
I receive financial aid grants and loans that make paying for school stress-free. I was awarded academic scholarships that helped me cover some of my tuition fees.
Involved In
I am an Admissions Scarlet Ambassador. I give tours and escort prospective students all around the campus to help them learn more about this great institution.
Community Connection
I went to Ecuador and did a community project there. Rutgers gave me some leftover blankets to donate to a damaged town in Ecuador that was hit hard by an earthquake this past July. On behalf of Rutgers, I donated the blankets and home goods to the families that were in despairing need.
What I Love Most
It's been a great experience being a student and Scarlet Ambassador. I have so many great opportunities at the tip of my fingers with the help of Rutgers' Center of Career Development.
One Word to Describe Rutgers-Newark
Prestigious. The University has made itself well known globally. The presence of President Obama at the graduation made it stand out even more.