Joshua C.
Business Management
"As a Newark resident, the RU-N to the TOP financial aid program and my Honors Living-Learning Community residential scholarship were key in helping me pursue my Rutgers University–Newark education."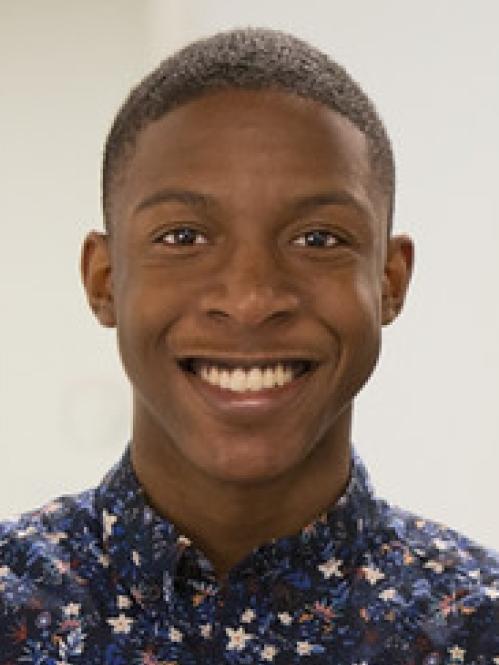 Joshua's Story: Why Rutgers–Newark?
Rutgers has the most bang for your buck. It provides students with a great education at a price that they can afford.
Best Experience So Far
My best experience so far has been working in the Office of Admissions as a Scarlet Ambassador. Our Admissions team creates a welcoming atmosphere for incoming students. I take pride in sharing what makes this place so special with prospective students and their families.
How Does the Faculty Bring Out the Best in Your Learning?
The faculty is committed to seeing the best in students even when they do not see the best in themselves. So far, my professors have been very accessible. They have gotten familiar with my twin brother and me and encourage us to strive for excellence.
Career Plans and Dreams
I don't think I have achieved my career goals yet, but what RU-N has done is provide me with guidance to find the road that will lead me to achieving my career plans, goals, and dreams.
More Affordable Access
Rutgers helped me see my dream of going to college for free come to fruition. I am grateful for the significant amount of financial support I received, especially my HLLC Scholarship and RU-N to the TOP initiative which provided me with enough money so that I don't have to pay for anything.
Experience on Campus
I have gone head first into lots of campus activities, which has helped me break out of the fear of performing in front of crowds since I participated in the RU-N First-Year Olympics and Homecoming Talent Show.
What I Love Most
I love the community aspect of Rutgers the most because it feels welcoming. It's so easy to talk to people here and it's so small that you get familiar with people's faces so quickly.
One Word to Describe Rutgers–Newark
One word I would use to describe RU-N is tenacious. This is because RU-N not only has rigorous courses, but it has a student body willing to take on the challenge presented by schools and colleges.
HLLC Student Only
I am grateful to be a part of the Honors Living-Learning Community (HLLC) program. During my high school years, I was determined to win as many scholarships as possible so that I wouldn't have to pay for college. HLLC turned out to be the answer to my prayer. However, it is imperative to note that HLLC isn't just a scholarship program. The HLLC is a living, breathing, growing body of students and faculty who seek to make an impact on the world. Through it, I was able to make new friends and learn from our differences. We aren't divided by our differences, it's our differences which unite us.
In addition, the HLLC has allowed me to discover the things I am passionate about, and is currently helping me cultivate these passions to turn them into purpose. My idea is to create a mentoring program with my peers in the HLLC cohort called The Path to Purpose. Being in the HLLC means being surrounded by highly motivated and supportive people who seek to help themselves and others.
My Civic Engagement Idea
The Path to Purpose will start with college freshmen and help them figure out what they love (their passion), what they're good at (their skills), and how profitable that career is. The Path to Purpose will hold career workshops, mock interviews, and other activities to help bring out soft skills necessary for the work field. The motto of the program would be "exposure creates options, and options demand choice" because the program will essentially create exposure to various career paths, generating options, so that by senior year, the student will be fully aware of their capabilities and drive, make the right career choice, and thus fulfill their purpose. Essentially, through the Path to Purpose, I would like to be the agent of change spoken about in our classes. An agent of change is a bold and brave individual who is not afraid of taking risks to help those around him or her.