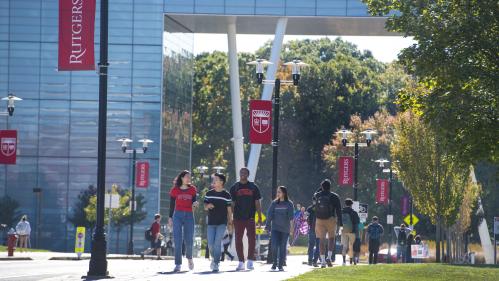 Tour Rutgers–New Brunswick
Rutgers–New Brunswick Tour Offerings
Undergraduate Admissions is ready to welcome you to campus! Our tours are considered introductory – designed to provide a general overview of the Rutgers student experience. These tours do not go over specific academic schools or majors. Learn more about our specific school and academic tours here.
✓ Rutgers–New Brunswick Information Session and Bus Tour
At this time, we are unable to take guests inside residence halls and other select buildings on campus due to safety protocols in place by Rutgers University. You can view residence halls on the Residence Life website.
Please review our full tour offerings and FAQs before registering for a tour.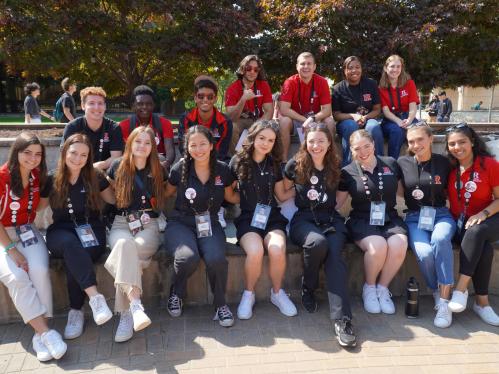 Prospective students and their guests are invited on a bus tour to get an introductory overview of Rutgers–New Brunswick's five-campus system across Piscataway, NJ, and New Brunswick, NJ. Guests will also attend an information session with an "at a glance" overview of Rutgers–New Brunswick and learn about the application process.
Specific majors and academic schools are not reviewed during this tour. This tour lasts about two hours and is presented by student Scarlet Ambassadors and an Undergraduate Admissions representative.
Due to high tour demand, you can only register for one information session and bus tour. If you register for multiple tour dates and times, the system will automatically cancel all registrations.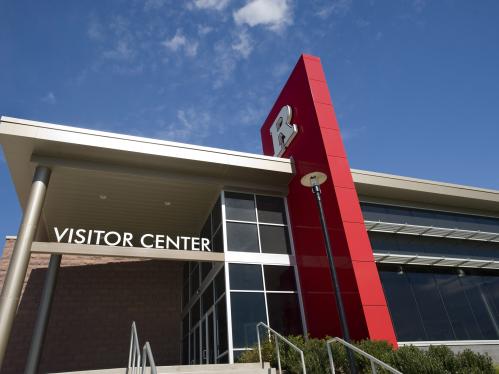 Can't make it to campus? Admitted and prospective students, along with their families, are invited to attend a virtual campus tour. This virtual tour of Rutgers–New Brunswick is hosted live by current student Scarlet Ambassadors and gives you an inside look at the highlights of Rutgers–New Brunswick's five-campus system! As an attendee, you will have the opportunity to write in any questions that you have about navigating campus, the student experience, general academic information, or any other topics, and our Scarlet Ambassadors will answer them live!
Explore campus in person with self-guided walking tours via the Rutgers–New Brunswick mobile app. Visit our five campuses at your own pace with a personal tour guide in the palm of your hand.
Get Started:
Download the Rutgers–New Brunswick app via the Apple or Google Play Store. 
Tap on the "Rutgers–New Brunswick Tours" guide. Open the sidebar in the upper left corner. Read the information for visiting campus, how to use this guide, and parking information. 
Select "tour options" and then "campus tours." 
Choose your campus and enjoy!
You can also choose from select academic school tour offerings on the app as well.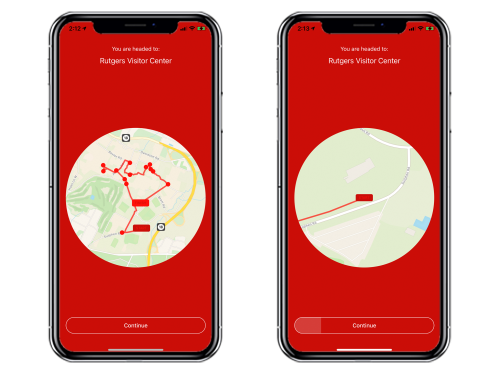 Undergraduate Admissions hosts tours during the fall, spring, and summer semesters. The schedule of our tours changes each semester. Tour schedules will be posted as follows. Please check back on our website to view the full list of our tour offerings for each semester and register for any event that best fits your schedule.
Due to spacing limitations, all students are only able to bring two guests with them on their tour. Guests must be registered in advance prior to attending a tour.

We do not have waitlists for our tours. Guests must be registered in advance to attend a campus tour. You can keep checking back on the registration site, as additional spaces will open up for guests that cancel.

Please refer to our yearly tour schedule to see when tours will be added.

While most academic schools have "headquarters" on a specific campus, it does not mean that campus is geared toward that specific school or major. Students at Rutgers–New Brunswick will take classes on all 5 campuses.

Please note our campus tours provide a general overview of academics and campus life at Rutgers–New Brunswick. For specific school/academic events, visit our School and Academic Events website, or view each school's website here. School and academic tours are managed by the academic schools and are not affiliated with Undergraduate Admissions. Please contact academic schools directly for information about school and academic events.

No. The School of Arts and Sciences does not host school/academic events. In addition, all upper division schools (Edward J. Bloustein School of Planning and Public Policy, School of Communication and Information, School of Management and Labor Relations, School of Social Work) do not offer tours for first-year students.

Yes! Guests can explore campus on their own with our self-guided walking tours via the Rutgers–New Brunswick mobile app. Learn more about self-guided tours here.

Rutgers–New Brunswick is not allowed to tour residence halls due to the safety of the students. You can view residence halls on the Residence Life website. Please keep this in mind when planning your visit.

Yes. Rutgers–New Brunswick's five campuses span across the towns of Piscataway and New Brunswick. While check-in and the information sessions are held on the Busch campus in Piscataway, the tours cover information specific to Rutgers University–New Brunswick.

We provide reasonable accommodations for guests with disabilities. Guests that have registered for a tour and require special accommodations should email us at tours@admissions.rutgers.edu to notify us of their accessibility requests.

No. We encourage guests to bring a water bottle and/or light snack with them on the tour if needed. We have water refill stations and a vending machine for drinks only at the Visitor Center.

Rutgers–New Brunswick does not provide open houses for prospective students. Please choose from any of our campus tour offerings to learn more about Rutgers–New Brunswick and its admissions process.

Admitted Student Open House 2024 information will be emailed to admitted students in early February.